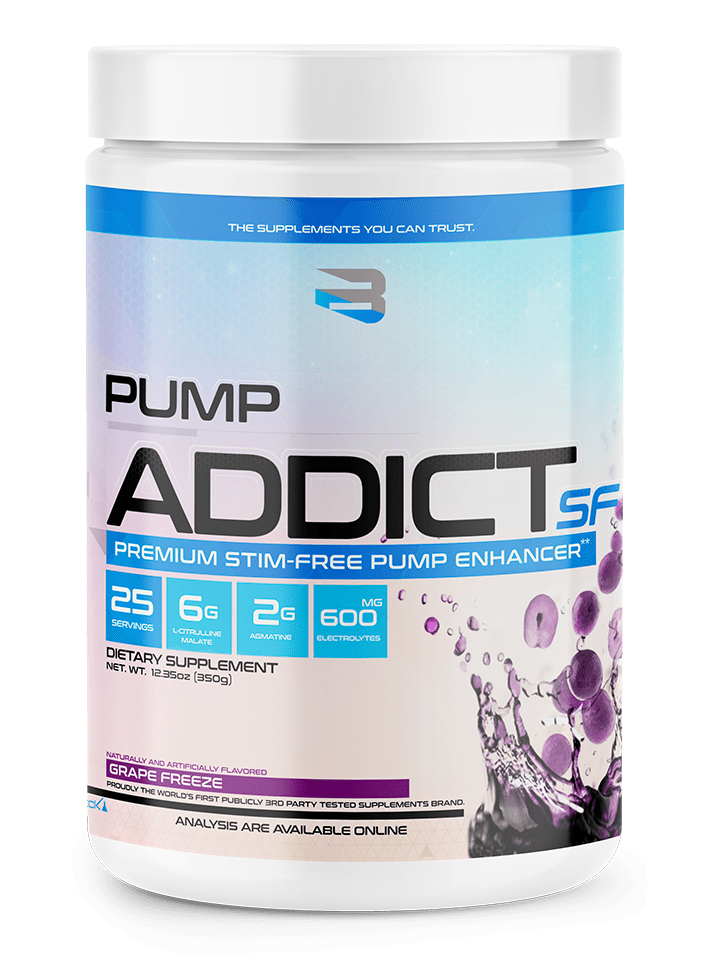 Pump Addict SF
---
❌ ZERO Stimulant or Caffeine
🤯 Most intense MUSCLE PUMPS of your life
💪 Loaded with Electrolytes for Hydration and Energy
✅ YES IF

▪️ You want to feel the best Muscle Pumps of your life!
▪️ You want to build more muscle
▪️ You want to improve performance
▪️ You want a better mind-muscle connection
▪️ You workout within 6 hours of bedtime

❌ NO IF

▪️ You prefer a pre-workout with caffeine - check out Pre Fuel or Pump Addict
▪️ Your workouts are more oriented toward cardiovascular endurance or sports




Pump Addict SF is designed to give you the most intense muscle pumps of your life. No caffeine or stimulants. Pure focus on improving muscle fullness & hydration. If you train late during the day or you don't like stimulant-based products, this STIM-FREE pre-workout is for you!
💪 Workout days
▪️ Pre-workout: 1 serving 15-30 mins before your workout

🥶 When I don't workout?
▪️ We don't recommend using it.
ℹ️ 25x Servings

ℹ️ Allergens
▪️ Vegan friendly
▪️ Gluten-Free
▪️ Peanut-Free
▪️ Lactose-Free
▪️ Soy-Free
▪️ Sugar-Free

ℹ️ Non-Medicinals ingredients: Natural & Artificial flavors, sucralose, citric acid, leucine, glycerol monostearate, Himalayan Pink Salt

ℹ️ Non-Medicinal Ingredients (Unflavored version): leucine, glycerol monostearate, Himalayan Pink Salt